Te mando este rojo cadmio es la exposición de la correspondencia original sobre el color entre John Berger y John Christie que tuvo lugar entre los años 1997 y 2000. La exposición incluye también una colección de fotografías de los autores hechas por el fotógrafo suizo Jean Mohr y por el propio John Christie, así como el libro del mismo título que recoge la totalidad de la correspondencia.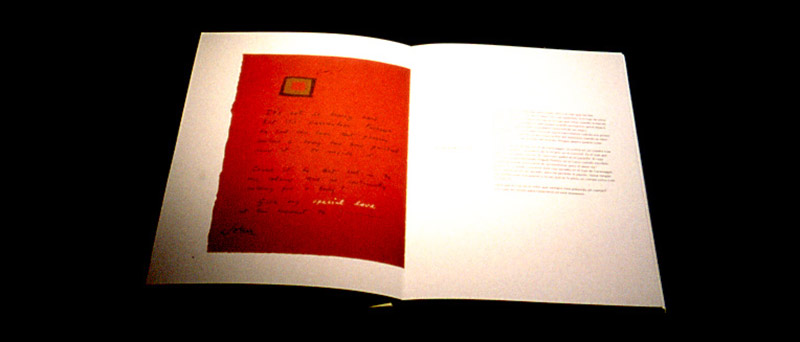 Història del projecte
1997-1999 Correspondence between JB and JC
2000 Actar publication (Spanish [2500 copies] and English [5000 copies]) + Birkhaüser version [2500 copies] in German
2000 Exhibition of the correspondence in the framework of M'escriuras una carta?  Museu d'Art de Girona.
2001 Exhibition of the correspondence at Sala Municipal Revilla de Valladolid.
2001 Exhibition of the correspondence at Museu Nacional d'Art de Catalunya
2002 BBC Radio Three 'Between the Ears' radio production (45 minutes) with music by Gavin Bryars.
2005 Exhibition at The National Theatre, London - letters, books etc from the correspondence
2010 CD version of the R3 programme released on Gavin Bryars' label
http://www.gavinbryars.com/work/disc/i-send-you-cadmium-red
2010 Exchange of letters between students of Escola El Puig d'Esparraguera and John Berger, John Christie and Eulàlia Bosch
2011 & 2014 Theatre version of 'Cadmium Red' performed in Toronto by 'Art of Time Ensemble'
http://artoftimeensemble.com/concert/i-send-you-this-cadmium-red
"The show is innovative and moving, unnerving at times yet still sensual and provocative that connects on an unexpectedly emotional level. It begs a response that evolves into a conversation piece after the audience leaves their seats and certainly well worth experiencing."
"A film, a painting, an essay, a concert — and yes, a play — all at once. Therefore none of the above. It's something else entirely. And it's extraordinary."
https://literarytreats.com/2014/03/24/theatre-i-send-you-this-cadmium-red-by-art-of-time/
2016  US Indie band 'Pinegrove' from New Jersey release 'Cadmium' their song inspired by 'I Send You This Cadmium Red'
https://www.youtube.com/watch?v=AbFGMw1mY48
2016 'CR' featured in Arte film 'John Berger - The Art of Looking'
http://www.bbc.co.uk/programmes/b082qynq
2017 'CR' featured in BBC R3 tribute (120 minutes) to John Berger - 'Ways of Listening'
http://www.bbc.co.uk/programmes/b08yrm17
2017 (Nov) 'Performance by Gavin Bryars at the British Library of a section of 'CR' as part of the birthday tribute 'Ways of Hearing JB'
https://www.bl.uk/events/ways-of-hearing-john-berger-in-words-and-music-05-november-2017